Therapy Blog for Orem, Spanish Fork & South Jordan
Communication in Marriage – Two Patterns That Hurt Marriage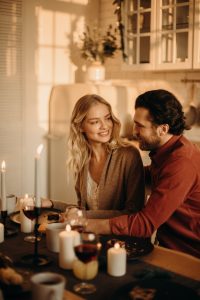 Poor communication in marriage is the number one problem I see as a therapist. Most couples that call for an appointment tell me they have 'communication problems'. There are many ways to describe communication problems in marriage. Let's talk about a few of them that I have noticed as a couples therapist. These are taken from the EFT therapist approach by Susan Johnson. Emotionally focused therapy can be highly effective and is the couples approach that we use at our counseling centers in Orem, South Jordan, American Fork and Spanish Fork. 
Pursue/attack -Withdraw/avoid
This is one of the most common patterns for poor communication in marriage. You could also call it an unhealthy attachment between spouses. It happens when one spouse is hurt by something their partner said or did. Therefore, they 'pursue and attack' their partner in an attempt to resolve their hurt. They don't want to feel uncomfortable anymore so they look towards their partner to do something different. In this pattern, this pursuit comes out as an attack. 
Naturally, this makes their partner uncomfortable causing them to 'withdraw' from the relationship. And, this in turn, causes the first partner to pursue even more vigorously because they feel their partner slipping away. 
Now, deciding which one causes the other is like trying to settle the 'chicken or the egg' debate. So we won't do that. But, we can talk about what it looks like. Here is an example: 
A spouse would say, "Why don't you ever want to talk about it? You always leave as soon as I even mention my needs in this relationship. Give me a break. You never want to do anything unless it's about you. Why do you do that?!" Their partner would respond, "All you ever do is talk about what you need in this relationship. I'm going to the gym now" and he leaves. "Great" the first spouse says, "Run away like you always do, you never do anything unless it's for yourself."
This is a cyclical process that goes back and forth. If this sounds familiar you are not alone. Most couples in therapy fall into this pattern at some point. 
Pursue/Blame – Withdraw/Placate
This pattern is similar to the one previously discussed, but with some differences. First of all, there is a blaming part of this pattern that can be harmful. This might come in the form of you saying to your spouse, "It's not my fault we can't get along. You never want to work on our marriage. I've set up couples therapy with three different therapists. You didn't come to any of them." 
Secondly, the spouse will tend to withdraw through placating their partner. They go along with what their partner is saying to keep the peace, but don't intend to do anything different. They might say to their partner, "I know, I know. I haven't gone with you to any of those appointments. I can try to make it to the next one." However, they don't have plans to actually go, they are just trying to get their partner to leave them alone. 
This pattern can be just as damaging as the first. The general pursue-withdraw pattern that most couples find themselves in is fixable if you can see it. You might need a good couples therapist to help correct these problems with communication in marriage.
We offer couples therapy to help improve your communication in marriage. Better communication can lead to more happiness together and better emotional health. This is what we specialize in. 
Reach out to schedule an appointment for counseling in South Jordan, Orem, American Fork or Spanish Fork. 
Written by Triston Morgan, PhD