Therapy Blog for Orem, Spanish Fork & South Jordan
Relationship Problems – In-Laws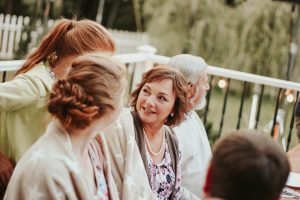 Oh, what to do about relationship problems with in-laws?! This is one of the biggest concerns of pre-marital couples and newlyweds (Related Article: Pre Marriage Counseling Tips), along with money issues (Related Article: Relationship Problems – Money) and problems with sex (Related Article: Relationship Problems – Sex). It isn't something that goes away later in your marriage either. Most couples have difficulty with in-laws at some point or another. Sometimes it's severe, sometimes it's something you can overcome quickly. 
Here are tips from a Utah marriage counselor about how to handle relationship problems involving your in-laws. 
Stop Calling Them Your In-Laws
First of all, the term 'in-law' sometimes carries a negative connotation. Does it for you? If it does, pick something else to call them. Try humanizing them by using their names or even 'my spouse's parents'. If you find yourself using the term 'in-law' like a swear word, use something else that can help you connect with them as humans. 
Find Ways To Connect Aside Through Your Spouse Or Children
Connect with your spouse's parents on a basic, human level. Your relationship with them doesn't just have to revolve around your spouse and your children. There might be something you connect with your spouses mom and dad around. Try to find it. Go out of your way to have an experience with them around what you find. For example, you both might like yoga. You could invite your spouse's mother to do yoga with you. Or you both might like sports. Watching a game with your spouse's father might be a safe place to connect. 
Talk With Your Spouse About Your Concerns
You don't want to let your concerns and emotions bottle up and explode (Related Article: Emotions 101: How To Be Healthy). So find a healthy way to talk with your spouse about what you are struggling with (Related Articles: Communication In Marriage: How To Take A Half Step, Communication In Marriage Tip: Use A Soft Start-up, and How To Communicate Better). Talk with your spouse about what you are feeling, not what needs to be done. You will find a solution together if you can be vulnerable and share what you are feeling. 
Remember that your spouse is still a child of their parents. They might be defensive or sensitive about them and how you approach this problem. But, also remember that they are your spouse and want to connect with you and help you. There is space for your spouse to be a child of their parents and your spouse. These things can co-exist. 
Don't Share Your Marriage Problems With Your Parents Or Your Spouse's Parents
You don't want to share your marriage problems with your parents or your spouse's parents. This can be a big shift from how you talk with your parents. Over the years, you have become used to sharing relationship issues with them, but at this point, it needs to be between you and your spouse. 
One of the main reasons is because your parents don't see how you and your spouse make up. All they hear about is the problem and they become protective or worried or upset. They don't see how the two of you fix the problem and move on. They are stuck in the past with that problem when you and your spouse are beyond it. It can make it hard for them to like your spouse or want to have a relationship with them. 
Take a look at your own marriage and how you and your spouse deal with in-laws. Follow the advice of a therapist who has been working with couples for almost two decades here in Utah. 
Let a marriage therapist help you fix your relationship problems with in-laws. Schedule an appointment in South Jordan, Orem, Spanish Fork or American Fork. 
We also do Telehealth counseling sessions. 
Posted in
american fork counseling
,
couples counseling
,
couples therapist
,
Couples Therapy
,
family counseling
,
family therapy
,
marriage and family therapy
,
Marriage Counseling
,
Marriage Counseling In South Jordan
,
Marriage Counseling in Spanish Fork Utah
,
Marriage Counselor
,
marriage problems
,
marriage therapy
,
mft
,
orem counseling
,
relationship problems
,
Relationship Problems With In-Laws
,
salt lake county counselor
,
south jordan counseling
,
spanish fork counseling
,
Telehealth In Utah
,
teletherapy
,
utah county counselor
,
Utah Therapist