Therapy Blog for Orem, Spanish Fork & South Jordan
Communication In Marriage – How To Take A Half-Step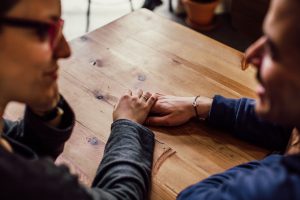 Communication in marriage can be difficult. You want to communicate in an honest way and connect with your spouse in order to have a good relationship. You want emotional intimacy. However, becoming emotionally intimate in your marriage isn't easy and often feels counterintuitive (Related Article: Emotional Intimacy: What It Is And How To Get It and Create Emotional Safety Through Fixing Marriage Problems). 
Here is a seldom used method of communicating well when you and your spouse are struggling with emotional intimacy and safety. Most of my couples in marriage therapy aren't doing this right until they learn about it. 
I'll teach you how to take a 'half-step' when communicating with your spouse. 
What Is A Half-Step?
Let's say that you have something to share with your spouse. You have been feeling hurt about their pornography use (Related Articles: My Spouse Is Using Pornography, What Do I Do? And Couples Therapy – Pornography Problem). This hurt is deep and lasting. It's something that you have shared before and it hasn't gone well. Talking about hurt surrounding your spouse's pornography use can be painful for you and for them. Naturally, you feel hesitant and afraid to share. Certainly, you don't want to cause problems and damage your relationship. 
So, what do you do? How do you handle the fear about sharing this hurt? This is where you take a half-step. A half-step is sharing the emotions about sharing your emotions. A whole-step would be just jumping into talking about your hurt with him. Sharing how you feel about his pornography use. This, however, isn't the first move you need to make in a situation where you feel afraid to share that hurt in the first place. 
Example Of A Half-Step
The half-step in this example is sharing your fear of sharing. Tell him, for example, "I have something I want to share with you, but am afraid to share. I want it to go well, but it's scary for me to talk about." This is the half-step before your whole-step of sharing your hurt. Talk about how you are afraid to talk about your emotions in the first place. 
This is where you are, so why not share it? Your spouse, if they are emotionally safe will receive this well (Related Article: How To Communicate Better). They will see it as an attempt to get closer to them and to be vulnerable. They won't see it as an attack or an invitation to fight. Communication in marriage can often be misunderstood, and this principle can easily fall into that category. 
How Your Spouse May Respond
Sharing your fear will give him a chance to say to you, "I can see that you have something important to share and that it's scary. I want to be safe for you and to be someone who you can share with."
You don't want to skip over the fear of sharing an emotion. This is an important part of being vulnerable and getting closer to your partner. 
Get Help To Take Half-Steps While Communicating 
A caring and trained marriage therapist can help you take half-steps. If you want to improve your communication in marriage, try this principle. If you are having trouble applying it, let a marriage counselor help. 
Schedule a couples therapy session in Spanish Fork, South Jordan, Orem or American Fork. 
Posted in
american fork counseling
,
clinical mental health counselor
,
Communication
,
communication in marriage
,
couples counseling
,
couples therapist
,
Couples Therapy
,
Emotional Intimacy
,
How To Communicate Better
,
How To Communicate Effectively In A Relationship
,
marriage and family therapy
,
Marriage Counseling
,
Marriage Counseling In South Jordan
,
Marriage Counseling in Spanish Fork Utah
,
Marriage Counselor
,
marriage problems
,
marriage therapy
,
pornography counseling
,
Pre Marriage Counseling
,
Relationship Counseling
,
relationship problems
,
salt lake county counselor
,
south jordan counseling
,
spanish fork counseling
,
Telehealth In Utah
,
therapist
,
utah county counselor
,
Utah Therapist