Therapy Blog for Orem, Spanish Fork & South Jordan
Stigmas – Counseling For Mental Health Problems In Utah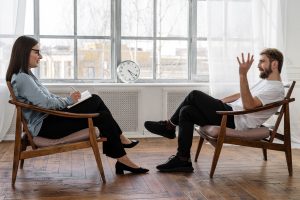 The stigma of going to counseling for mental health problems in Utah is diminishing, but still there. Many people believe that you are weak if you go to counseling or that you should just be able to fix your problems yourself. Others don't know what to expect when going to therapy so they don't start (Related Articles: Individual Counseling; What It Is And What It Isn't and What Marriage Counseling Can And Cannot Do). Some have had bad experiences in therapy before, so it isn't something they want to try again. 
Let's address each of these reservations based on what I've seen as a marriage counselor in Utah. 
Does Going To Counseling Mean I'm Weak?
First, let's talk about what going to counseling means. Does it mean you are weak if you ask for help and talk about your marriage problems or individual issues? No. Absolutely not. In fact, going to therapy to talk about your issues shows strength. It takes a lot of strength to talk about hard things such as addictions, depression, anxiety or marriage problems. It takes stamina to continue to work on these issues in therapy because they don't go away easily. Addressing your problems deliberately instead of just ignoring them or numbing out takes a lot of courage. 
So, no – you are not weak if you come into therapy to work on things. In fact, you are strong if you do so. It's similar to going to the gym. You get stronger by working your muscles, not by sitting at home wishing that you could lift heavy things. Coming to therapy is an emotional workout (Related Article: Build Your Emotional Capacity). 
What Can I Expect If I Go To Counseling? 
Good question. Depending on what you are coming into therapy for, you can expect different things. If you are coming to therapy for pornography problems you can expect to work on sobriety, emotions and connection (Related Article: Pornography Counseling: Find Recovery And Healing). If you are coming in because of how someone else's pornography use is impacting you you can expect to work on taking accountability for whats yours and nothing more, emotional development and stamina and self care and healing (Related Article: My Spouse Is Using Pornography: What Do I Do?).
Working on marriage problems brings the expectations that you will address open communication, vulnerability, emotional safety and healing (Related Article: Emotional Intimacy: What It Is And How To Get It). Individual issues bring another set of expectations, but not much different than what is listed above. The main idea is that you will work on emotional development and capacity no matter what you come into therapy for (Related Articles: Emotions 101: How To Be Healthy and 3 Principles Of Emotional Health). It might depend on the therapist and their approach, but this is fairly standard across models and therapists. 
I've Had A Previous Bad Experience In Counseling
This one is difficult. If a bad experience in therapy in the past is keeping you from attending now, you could consider this: therapist/client fit. Not every therapist is meant for every client. Also, not every therapist treats all issues and not every therapist is good at therapy. If you want to give it another chance, find a recommendation from someone you trust. That could be a good start. But, just because they fit for your friend/family member, doesn't mean they will fit for you. Give it at least 3 sessions to see if you like the therapist and their approach. The client-therapist relationship is a big predictor of your change in life. 
Counseling for mental health problems in Utah can be helpful. Getting past some of the stigma's of treatment can help you actually get in and start healing. 
Schedule a counseling session with a competent, compassionate therapist in Orem, South Jordan, Spanish Fork or American Fork. 
Posted in
american fork counseling
,
anxiety
,
clinical mental health counseling utah
,
clinical mental health counselor
,
clinical mental health counselor utah
,
counseling
,
Counseling For Mental Health In Utah
,
counselor
,
depression counseling
,
depression therapy
,
individual counseling
,
individual therapy
,
Marriage Counseling
,
Marriage Counseling In South Jordan
,
Marriage Counselor
,
orem counseling
,
south jordan counseling
,
spanish fork counseling
,
teletherapy utah
,
therapist
,
Utah Therapist