Therapy Blog for Orem, American Fork, Spanish Fork & South Jordan
What Is Emotional Safety In A Relationship?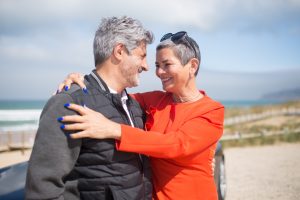 Let's talk about what emotional safety is and why it matters to your relationship and how to get it. 
What Is Emotional Safety?
Emotional safety in your relationship is knowing and feeling that your partner sees you, accepts you and will be there for you. It involves being able to make mistakes and to still be loved by your partner. Emotional safety in a relationship includes feeling secure and sure that your partner is there for you, loves and accepts you. It is part of a healthy attachment with each other. 
Example of Emotional Safety
If you are nervous and feeling inadequate about a presentation you have this week, reaching out to your partner and feeling them respond with love and compassion is part of emotional safety. It's safe for you to be vulnerable and open up about your nervous and inadequate feelings. When your partner hears this, doesn't judge, but rather embraces and listens – you feel emotionally safe. 
Why Emotional Safety Matters
If you have emotional safety, your imperfections are accepted as well as the rest of you that perform well. So, when you have an emotionally safe relationship you have more courage to go out into a world that can hurt and damage you. Encouragingly, you can do this because you know you have your emotionally safe partner to come back to. 
Emotional safety allows you to be imperfect and trying to be better. You aren't expected to do everything right and to have arrived at the pinnacle of your abilities and relationship expectations. Rather, your emotionally safe partner allows you to be working towards perfection. You, as an emotionally safe partner as well, give your spouse the benefit of the doubt and allow for them to make mistakes. Naturally, then, you will both see each other as enough and work through problems together. 
Example of Why Emotional Safety Matters
Let's say that your partner has been working on a pornography problem (Related Articles: Pornography Counseling – Common Issues: My Spouse Is Using Pornography, What Do I Do?). Relapse is part of recovery, right? But, if you expect your spouse to never relapse, your progress as a couple can be halted. So, even though it hurts, working through your partner's pornography relapses allows you both to be on the path of recovery together. This path takes time and isn't an exponential, mistake-less journey. Rather, it's one that takes time and effort as progress and mistakes are made. 
Without this mindset, there can't be emotional safety for either of you. Your partner can feel emotionally safe as you accept them as imperfect. You can feel emotionally safe as you both and work through your emotional experiences with it as well (Related Article: How To Communicate Better Through Boundaries). 
How To Create Emotional Safety
To create emotional safety you need a willingness and humility that can be difficult to teach, but crucial to have (Related Article: Common Marriage Problems – What To Do). Having said that, let's talk about specific things you can do. 
First, recognize that your partner is imperfect and accept it. Let go of the expectations you have of them not making mistakes. If you are able to do this, you will start to treat them differently. 
Second, know the difference between thoughts and emotions and the importance of emotions in the first place (Related Articles: Emotions 101: How To Be Healthy and 3 Principles Of Emotional Health). This will help you connect with yourself and your spouse. 
Third, we have talked about holding emotional space for your spouse (Related Article: Hold Emotional Space For Your Spouse). This is crucial as you create safety for your spouse, and vice versa. Hold space for them emotionally as they struggle through life. 
Schedule a couples counseling session with a competent, caring therapist who can help you in your marriage. South Jordan, Orem, Spanish Fork or American Fork. 
Telehealth sessions avaliable.
Posted in
couples counseling
,
couples therapist
,
Couples Therapy
,
Emotional Intimacy
,
How To Communicate Better
,
How To Communicate Effectively In A Relationship
,
marriage and family therapy
,
Marriage Counseling
,
Marriage Counseling In South Jordan
,
Marriage Counseling in Spanish Fork Utah
,
Marriage Counselor
,
marriage problems
,
marriage therapy
,
pornography counseling
,
relationship problems
,
south jordan counseling
,
spanish fork counseling
,
teletherapy utah
,
therapist
,
utah county counselor
,
Utah Therapist