Therapy Blog for Orem, American Fork, Spanish Fork & South Jordan
Anxiety Help – Individual Counseling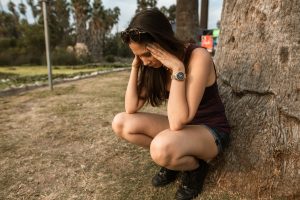 Anxiety help is closer than you think. Here in Utah, we have counseling centers in Orem, South Jordan, Spanish Fork and American Fork. We have been helping people deal with anxiety for years and can help you as well. We are trained marriage and family therapists who help couples, families and individuals overcome their problems with anxiety. 
Consider the following when dealing with anxiety on your own. 
Anxiety Is Common
Anxiety impacts millions of Americans every year (see NIMH). It is common and more prevalent than you might imagine.  Many people believe that emotions, such as anxiety, are bad and wrong. They believe that they are weak if they feel and even bad (Related Article: 3 Principles Of Emotional Health). This can lead to the unhealthy experience of shame (Related Article: Individual Therapy Tips: Guilt Versus Shame). The thought that they are the only one also keeps them from sharing with others. So many people keep it to themselves. 
Just know that you are not the only one. Many others struggle with anxiety. Recognizing that you are feeling anxious, letting yourself feel and and being able to cope with it is a healthy process (Related Article: Emotions 101: How To Be Healthy). This can be difficult if you struggle with anxiety to the point where it is hard to let go. Let's talk about that. 
Coping With Anxiety Is Different Than Letting Anxiety Go
There are many things you can do to cope with anxiety. One of which is a breathing technique designed to calm your body (Related Article: Just Breathe: Reduce Anxiety With This Simple Exercise). Learning how to help your body calm down is a technique anyone can do. It doesn't matter if you believe in it, it works if you do it right. 
Letting anxiety go has to do with feeling it and then eventually not feeling it. When you let it go, it might come back, but it's something that at some point leaves you. When you struggle to let it go, it's important to know how to cope with it through a technique like the breathing exercise. Some coping skills are designed to help you cope with anxiety even if it doesn't leave you. 
Your Relationships Can Help You Deal With Anxiety
Connecting with others matters when you are dealing with anxiety (Related Article: Anxiety Help: Connecting With Others). When you connect with others, your body can calm down, you can feel safer and you can reduce anxiety. However, when you are feeling anxious, you might not want to reach out. So it's important to know how to let others know before this point so you can have others reach out to you when they recognize that you are struggling. 
Anxiety help often comes through individual therapy. Have courage to reach out for help. You are not alone and are not the only one struggling with anxiety. A trained therapist can help. 
Try individual counseling for anxiety help. We have offices in South Jordan, Orem, Spanish Fork and American Fork. We accept many insurances and do telehealth. 
Posted in
american fork counseling
,
anxiety
,
anxiety counseling
,
anxiety help
,
cmhc
,
counseling
,
counselor
,
individual counseling
,
individual therapy
,
Online Counseling
,
orem counseling
,
salt lake county counselor
,
south jordan counseling
,
spanish fork counseling
,
suicide
,
Telehealth In Utah
,
teletherapy
,
teletherapy utah
,
therapist
,
therapy
,
utah county counselor
,
Utah Therapist