Therapy Blog for Orem, American Fork, Spanish Fork & South Jordan
Family Counseling – What To Expect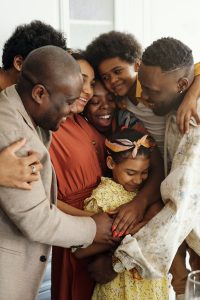 Family counseling can be scary to start. You are probably in a place where you are considering it, but not sure what it will be like. After providing family counseling in Utah for nearly two decades, let me share with you about what to expect. You can read here about what to expect with telehealth counseling (Related Article: How Utah Telehealth Counseling Works) or couples therapy (Related Article: Marriage Counseling Do's And Don'ts) and individual therapy (Related Article: Individual Therapy  What It Is And What It Isn't)
You Will Talk About Yourself
This is one that I emphasize to everyone – when you come to therapy you will talk about yourself. It doesn't matter if you are coming to individual therapy, family therapy or couples counseling, you need to talk about you. Not your spouse or your children. You can still talk about a situation involving others, but a good therapist will help you talk about your role and your emotional experience in it (Related Article: How To Communicate Better Through Boundaries). 
For example, let's say that your children are consistently late when you are trying to go somewhere. Instead of talking about their poor time management skills, or how you asked them again and again and reminded them with plenty of time to spare, you need to talk about you. You can say, "I feel stressed when we are late to church or other things we are doing. I feel unheard when I tell you ahead of time that we are leaving and then we are still late." You are still talking about the situation, but are also talking about your emotional experience with it in a way that allows your children to not feel blamed and where they can respond to you in a compassionate way. They then get to decide if they want to change. Change won't happen because it's being forced upon them, but rather because they want to do it. 
Your Relationships With Each Other Are A Key Focus
Family counseling is less about behavior and correction and more about relationship building. The attachment you have with each other is crucial to your family being happy. A good marriage and family therapist will help you develop strong and secure attachments with each other. 
For example, instead of focusing on making your children be on time, the therapist will help you share your emotions and your children share their emotions so you can understand each other. When you understand each other in this way it develops compassion and love and an emotionally safe place to be vulnerable (Related Article: What Is Emotional Safety In A Relationship?). When you connect in this manner, behavior starts to change, but not until then. 
It Takes Time To Change
There is no quick fix to relationship problems in a family. It takes time and genuine effort on your part. If you give yourself enough space to learn new skills and for your relationships to become safer, you can change. When the process is rushed you end up struggling to make lasting change. So, give family counseling some time so that it lasts.
Let a trained family counselor help you in Orem, South Jordan, Spanish Fork and American Fork. You can also try books from an expert such as John Gottman. 
Posted in
american fork counseling
,
family counseling
,
family therapy
,
marriage and family therapy
,
Marriage Counseling
,
Marriage Counseling In Orem Utah
,
Marriage Counseling In South Jordan
,
Marriage Counseling in Spanish Fork Utah
,
Marriage Counselor
,
marriage problems
,
marriage therapy
,
mft
,
Parenting
,
south jordan counseling
,
spanish fork counseling
,
teenager counseling
,
Telehealth In Utah
,
teletherapy
,
teletherapy utah
,
therapist
,
therapy
,
utah county counselor
,
Utah Therapist