Therapy Blog for Orem, Spanish Fork & South Jordan
Family Counseling – How Parents Are Involved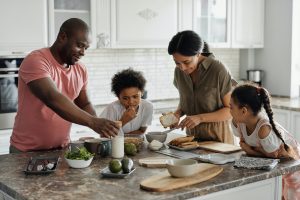 Family counseling can be scary to start. You might be wondering what will happen. How the therapist will see you as parents and how they will start to help you change. Its reasonable to worry about what it will be like when you come to family therapy. Here are a few areas that you as parents can prepare for that might help calm your nerves. 
Family Counseling Is Not About Finding A Bad Guy
The family therapist is not going to be looking at you as parents as bad or wrong. Many parents are nervous that they are going to be told that they are bad parents. You might have some behaviors to correct, but three is a lot moree good going on than bad. Especially if you are coming into therapy. You wouldn't bring your family into get help if you didn't care about them. 
For example, you will be asked about what happens in your family when there is fear or hurt. You might be directed to set appropriate boundaries with your spouse (Related Article: How To Communicate Better Through Boundaries) or to validate and empower your teenager (Related Article: Validate And Empower Your Adolescent Child). Or you might learn about how adolescents thrive in structure and push against it at the same time (Related Article: Parenting Adolescents 101: Adolescents Thrive In Structure And Push Against It). 
Family Counseling Is About Building On What You Already Have
No need to recreate the wheel, family therapists will build on your strengths. The love and compassion and care you have for your children will be highlighted and emphasized. This is the building block for anything that it introduced in therapy. For example, if you are struggling with your teenager and curfew it might sound like this in therapy. "I can see that you care about your son and are concerned about his well-being late at night. He matters enough to you that you would call and text him until you hear back if he is 20 minutes late." And then you and the therapist would work on building understanding between you and your son. 
This can be especially difficult if you have a blended family (Related Article: Family Counseling: Adolescents And Blended Families). The dynamics in these situations are difficult, but not insurmountable. Its important to keep in mind that you have love and compassion for all of your children, not just your biological ones. 
Expect To Talk About Yourself
Many parents want to come in and tell the family counselor about their family. A good daily therapist will hear that and help you to talk about yourself, not others. That is where you have power and control to change things. You. By doing this, you are able to focus your effort where it matters most. Getting the therapist to understand how awful your teenager has been isn't going to help. But talking about how sad and scared you feel when your teenager acts that way will. Then you can work on owning your own part of the situation, share your emotions and connect with others. Perhaps even connect with your teenager. 
Start Reading A Book

Reading a self-help family book can help the process of changing your family. Knowing skills to use and areas to avoid is helpful. Sometimes you need a therapist to help you apply these principles, but this can be a great start. One based on attachment-based family therapy can help (see ABFT). 
Set up family counseling in Orem, South Jordan, Spanish Fork and American Fork. 
Posted in
american fork counseling
,
Communication
,
counseling
,
Couples Therapy
,
family counseling
,
family therapy
,
How To Communicate Better
,
marriage and family therapy
,
Marriage Counseling In Orem Utah
,
Marriage Counseling In South Jordan
,
Marriage Counseling in Spanish Fork Utah
,
marriage problems
,
mft
,
Parenting
,
salt lake county counselor
,
south jordan counseling
,
spanish fork counseling
,
teenager counseling
,
Telehealth In Utah
,
teletherapy
,
teletherapy utah
,
therapist
,
therapy
,
utah county counselor
,
Utah Therapist