Therapy Blog for Orem, Spanish Fork & South Jordan
Relationship Problems – Defensiveness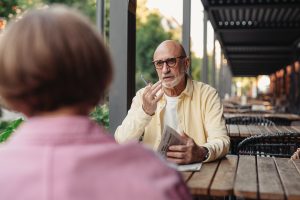 Let's talk about one of the more common relationship problems – defensiveness (Related Article: Relationship Problems – Criticism and Relationship Problems – Contempt). Remember, it's not the presence of relationship problems (i.e., arguments, fights) that leads to divorce. But rather, it's how you handle your relationship problems that can lead you divorce (from the research of John Gottman). 
4 Specific Relationship Problems To Avoid
If you haven't reviewed the 4 Horsemen of the Apocalypse, then check these out. John Gottman found 4 different relationship problems that were consistent among couples who divorced (Related Article: 4 Signs You Have Marriage Problems). Criticism, contempt, defensiveness and stonewalling are the big 4 to avoid. These were common in this group that didn't make it. It doesn't have to be you, however. We will address these 4 Horsemen of the Apocalypse, as John Gottman would call them, separately in different articles (Related Article: How To Fix Your Marriage Problems). 
Relationship Problems: Defensiveness 

Defensiveness is a dangerous relationship problem. It is often given in response to criticism. When you feel criticized, you become defensive. If someone tries to be the expert on you and tells you about you (Related Article: How To Communicate Effectively: Avoid These Two Communication Problems In Marriage), your reaction is to correct them and be defensive. Even if you are right, however, being defensive isn't going to help you in your relationship. It's rare to have a spouse say, "Thanks for pointing that out, honey. I didn't see it that way", after you have been defensive. The escalation starts. 
Example of Defensiveness
Listen to this example of being defensive. After coming home late from work your partner says, "It's 6:30. I thought you were going to be home just after 5:00." And your defensive response, "You try to work all day and then fight traffic and be home on time. I've got a lot to do at work and it doesn't always get done by 5pm!"
Fix Relationship Problems: Defensiveness
Taking responsibility is how to fix defensiveness. Be accountable for your actions and words. If you make a mistake, own up to it and admit it. You aren't perfect and that's ok. It's important to let go of defending your position and being responsible for yourself. When you try to be right, your relationship loses – even if you 'win'. 
Example Of Taking Responsibility
Here is an example of taking responsibility. You could say, "I know I didn't call you to let you know I was going to be late. I can see that eating dinner together was important to you." This sounds simple, but goes a long way. 
Marriage and family therapists are trained to help you overcome defensiveness and be healthy and happy with your spouse. We have offices in South Jordan, Orem, Spanish Fork and Orem. 
Posted in
american fork counseling
,
Causes of Divorce
,
Communication
,
communication in marriage
,
couples counseling
,
couples therapist
,
Couples Therapy
,
Emotional Intimacy
,
How To Communicate Better
,
How To Communicate Effectively In A Relationship
,
marriage and family therapy
,
Marriage Counseling
,
Marriage Counseling In South Jordan
,
Marriage Counseling in Spanish Fork Utah
,
Marriage Counselor
,
marriage problems
,
marriage therapy
,
Online Counseling
,
orem counseling
,
Relationship Counseling
,
relationship problems
,
salt lake county counselor
,
south jordan counseling
,
spanish fork counseling
,
Telehealth In Utah
,
teletherapy
,
teletherapy utah
,
therapist
,
utah county counselor
,
Utah Therapist