Therapy Blog for Orem, Spanish Fork & South Jordan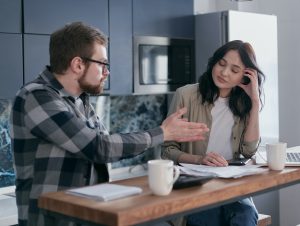 What are the causes of divorce? If you want to know what one of the best researchers out there has to say about it, check out John Gottman's work. Or you can read a quick summary of some of it here – 4 Signs You Have Marriage Problems and How To Fix Your Marriage Problems.
His work is based on scientific research and his findings will show you what couples do who end up getting divorced. In the articles I just linked above, you will read about what John Gottman calls the 4 horsemen of the apocalypse – criticism, contempt, defensiveness and stonewalling. When you find these in your marriage, according to his research, the end of your marriage could be near. He can predict marriage failure/divorce with an astounding rate of accuracy using the principles in his research. 
As a marriage and family therapist, I'll share with you what I've learned about the causes of divorce from my Utah counseling practice-based research. Or what I have learned from clients over the years as I have treated them. This is what I have observed as I have treated clients in marriage therapy. These are your neighbors here in Utah County and Salt Lake County. 
Lack Of Commitment
Couples who don't end up making it have this in common. They lack commitment to each other. For some reason or another, they have decided that they don't want to be beholden to each other. They might feign affection and commitment, but in their heart they aren't in it. It's difficult to make it work when you have marriage problems in this state. Eventually, your relationship issues are going to press you to the point where you are uncomfortable and if you aren't committed, it's easy to give up. 
Lack of Humility
Many couples who end up not making it don't have humility. I'm not speaking of humility in a moral sense. I'm talking about it in a sense of courage to try, willingness to continue working at problems, and the desire to look at yourself as part of the solution (and problem). Eventually, you will reach a point where you don't have the skills to work through your marriage problems. At this point, if you have humility, you will do what it takes to learn and develop these skills. The lack of skill in the first place isn't the issue. What actually matters is if you actually try to learn them when you realize you are deficient. 
Lack of Knowledge
Believing in certain marriage myths can hurt your marriage (Related Article: Myth: Marriage Needs To Be 50/50). Everyone can use help knowing how to be healthy in marriage and individually – which makes you stronger in your marriage (Related Articles: Emotions 101: How To Be Healthy and 3 Principles Of Emotional Health). Learning from experts such as John Gottman or Susan Johnson, for example, will increase your likelihood of making your marriage last. A good couples therapist can help you apply the principles you learn. Because what you need is an experience, not just an explanation of what to do. Marriage therapy will help you have experiences of applying this knowledge – which goes beyond simple understanding. 
Combat the causes of divorce and meet with a competent, caring couples counselor in Utah – South Jordan, Orem, American Fork or Spanish Fork. 
Posted in
american fork counseling
,
Causes of Divorce
,
Communication Barriers
,
communication in marriage
,
counseling
,
counselor
,
couples counseling
,
couples therapist
,
Couples Therapy
,
marriage and family therapy
,
Marriage Counseling
,
Marriage Counseling In South Jordan
,
Marriage Counselor
,
marriage problems
,
marriage therapy
,
mft
,
orem counseling
,
Relationship Counseling
,
relationship problems
,
salt lake county counselor
,
south jordan counseling
,
spanish fork counseling
,
teletherapy
,
teletherapy utah
,
therapist
,
utah county counselor
,
Utah Therapist