Therapy Blog for Orem, Spanish Fork & South Jordan
What To Do About Marriage Problems Because Of Anxiety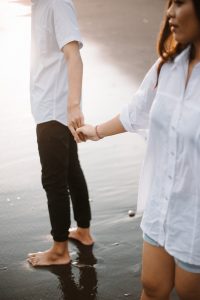 Let's talk about what to do about marriage problems because of anxiety. Anxiety can often be seen as an individual issue. However, this issue impacts not only you, but those around you. There are certain techniques that you can use to combat individual anxiety such as positive self-talk and diaphragmatic breathing (Related Articles: How To Improve Your Self-Esteem Through Self-Talk and Just Breathe! Reduce Anxiety With This Simple Exercise). There are other techniques that will help you in your relationship when you have anxiety. Let's talk about what I have learned as a Utah marriage and family therapist over the years. 
How Anxiety Impacts Relationships
Anxiety can be seen as an individual mental health issue, but it impacts others around you. It causes a strain on your relationship. I have worked with many clients who have anxiety where their partners often start to feel some type of discomfort as well. It can be hard for them to know how to help, or at least how to understand your anxiety. 
Your spouse could think that they are causing your anxiety, that they are to blame. They could also think that they are responsible for the care and management of your anxiety. This isn't the case, however. 
Your marriage can suffer from the personal strain anxiety puts on you. Relationships are hard enough in the first place, right. This can make it even more difficult. 
The good news is that there is hope and a way to cope and deal with marriage problems because of anxiety. Let's talk about what to do. 
Communication Is Key
When your relationship is stressed, you might fall into one of the most common traps – not talking, or talking improperly to each other. Your communication becomes unhealthy and dysfunctional. You try to be your partner's boss, or the expert on them (Related Articles: How To Communicate Better: Learn These 3 Principles and How To Communicate Better Through Boundaries). This never turns out well. 
Instead, talk about your anxiety and allow them to talk about their experience with your anxiety. If you are able to share with each other, you can become closer through your battle against anxiety. You become a team, together. You develop greater emotional intimacy as you do this. Emotional intimacy can be scary in this way, but it is crucial if you are to move together as a couple, healthy and happy (Related Article: Emotional Intimacy: What It Is And How To Get It).
Make it emotionally safe for each other to struggle. Let each other know that even though it's hard, that you want to be safe for them – there for them. Share your struggle about anxiety with your spouse so that they can see all of you. Since this is a vulnerable place to be, it is usually met with compassion and care which can create emotional safety (Related Article: Create Emotional Safety Through Fixing Marriage Problems). 
Don't Take It Personally 
Avoid the temptation to take it personally. Your spouse's response to your struggle with anxiety might not be what you want it to be. It's not about you, however. It could be that they are having a hard time figuring out how to handle that on top of everything else in life. They still love you, however. 
Also, your spouse's anxiety isn't about you either. They would likely be having panic attacks even if you weren't in the picture. It's not a testament to your poor relationship, but rather a testament to your partner's humanness. Everyone has something to deal with. 
Take Care Of Yourself
Proper self-care is crucial when dealing with a mental health issue in your relationship. Anxiety can cause strain that needs to be addressed. So, take care of yourself by addressing the emotions that come up for you (Related Article: Emotions 101: How To Be Healthy). Recognize, feel and cope with your emotions. This will help you have a greater emotional capacity to deal with discomfort that anxiety brings to your marriage. 
Where To Get Help
Marriage therapists can help you figure out what to do about marriage problems because of anxiety. Schedule a session with a caring, competent couples counselor in South Jordan, Orem, American Fork or Spanish Fork. 
We also offer Telehealth therapy sessions for Utah clients. 
Posted in
anxiety counseling
,
clinical mental health counselor utah
,
counseling
,
Counseling For Mental Health In Utah
,
couples counseling
,
couples therapist
,
Couples Therapy
,
How To Communicate Better
,
How To Communicate Effectively In A Relationship
,
marriage and family therapy
,
Marriage Counseling
,
Marriage Counseling In South Jordan
,
Marriage Counseling in Spanish Fork Utah
,
Marriage Counselor
,
marriage problems
,
marriage therapy
,
orem counseling
,
Relationship Counseling
,
south jordan counseling
,
spanish fork counseling
,
Telehealth In Utah
,
teletherapy utah
,
therapist
,
utah county counselor
,
Utah Therapist