Therapy Blog for Orem, Spanish Fork & South Jordan
Marriage Counseling – Outside Versus Inside Marriage Problems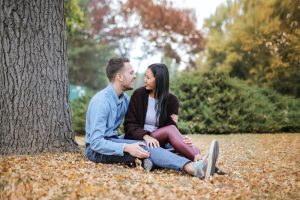 If you want to learn a marriage counseling tip that can increase your chances of relationship success, here it is. Start dealing with problems outside of yourself differently if you want to do better with problems between yourselves. 
As a marriage counselor in Utah, I've found that couples often do better when dealing with problems outside of their marriage (Related Article: Couples Therapy). For example, I bet you will come together easier when dealing with losing a job (outside marriage problem) than, say, infidelity (inside marriage problem). It's not a guarantee that you will do better with outside problems, but I've noticed that you have a better chance to do so. Especially when compared to inside problems. Why is that? 
Outside Versus Inside Marriage Problems
Outside Marriage Problems
When you are faced with a problem that doesn't seem personal, or between the two of you, your teamwork kicks in. You guys work together to solve the problem. Easily, you find companionship in having a joint approach. Common enemies (i.e., losing a job) can create camaraderie. Isn't it nice to have someone who understands you and supports you when you are hurting or afraid? It's not a guarantee that you will come together, but you are more likely to here. 
All of the above help you to connect through outside marriage problems. It's harder to connect when dealing with inside problems – marriage problems between the two of you, such as infidelity. 
Inside Marriage Problems
When your relationship problems are between you, it seems more unsafe. Naturally, if your spouse is hurting you, you might want to lean out and protect yourself. It seems more unsafe to share your emotions with your partner in these circumstances. Why would you open up and be more vulnerable if they are hurting you in the first place? Right? Its scarier and more difficult to deal with these types of relationship problems. 
What To Do?
Get good at working on outside marriage problems so that you can do better with inside marriage problems. Get into marriage counseling now versus waiting (Related Article: Marriage Therapy In Utah – How Putting It Off Damages Your Relationship). Or, start reading a book such as Hold Me Tight (by Dr. Susan Johnson).
Outside marriage problems still take work and vulnerability, but it can be a little easier. So, focus on these types of issues as often as they arise and specifically use skills that will help your relationship (Related Article: How To Communicate Better Through Boundaries and 4 Signs You Have Marriage Problems). 
Try marriage counseling in Orem, South Jordan, Spanish Fork and American Fork. We even do telehealth counseling sessions. 
Posted in
american fork counseling
,
Communication
,
communication in marriage
,
Counseling For Mental Health In Utah
,
couples counseling
,
couples therapist
,
Couples Therapy
,
How To Communicate Better
,
How To Communicate Effectively In A Relationship
,
marriage and family therapy
,
Marriage Counseling
,
Marriage Counseling In Orem Utah
,
Marriage Counseling In South Jordan
,
Marriage Counseling in Spanish Fork Utah
,
Marriage Counselor
,
marriage problems
,
marriage therapy
,
orem counseling
,
pornography counseling
,
Relationship Counseling
,
relationship problems
,
Relationship Problems With In-Laws
,
salt lake county counselor
,
south jordan counseling
,
spanish fork counseling
,
Telehealth In Utah
,
teletherapy
,
teletherapy utah
,
therapist
,
utah county counselor
,
Utah Therapist