Therapy Blog for Orem, American Fork, Spanish Fork & South Jordan
Couples Therapist: Rachel Brown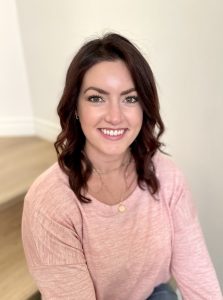 Meet Rachel Brown, therapist at the Center for Couples and Families!
Rachel Brown grew up in upstate New York, and has spent the past 10 years in Utah. She received her bachelor's degree from Brigham Young University in English and Family Studies, and is currently a master's student at Touro University and an intern therapist.
As a mother of three children, she is familiar with the unique joys and challenges that come with parenting, marriage, and family dynamics. Rachel's own past experience with postpartum depression sparked an interest in mental health and the need for strong support, which led her to a career in therapy in order to support others through their struggles.
Rachel is particularly interested in working with maternal mental health, faith transitions, LGBTQ+ wellness, sexuality, and depression and anxiety. In her free time, she enjoys reading, playing the piano, visiting new restaurants with her family, and baking.
Interested in working with Rachel?
Call or text us today at 801 477 0041.
Posted in
anxiety
,
anxiety counseling
,
Communication
,
counseling
,
counselor
,
couples counseling
,
couples therapist
,
depression
,
depression counseling
,
depression therapy
,
EMDR
,
Emotional Intimacy
,
family counseling
,
family therapy
,
individual counseling
,
individual therapy
,
Infertility
,
marriage and family therapy
,
Marriage Counseling
,
Marriage Counselor
,
marriage problems
,
marriage therapy
,
mft
,
orem counseling
,
Parenting
,
Pre Marriage Counseling
,
Relationship Counseling
,
relationship problems
,
teenager counseling
,
teletherapy
,
teletherapy utah
,
therapist
,
trauma
,
trauma counseling
,
utah county counselor
,
Utah Therapist