Therapy Blog for Orem, Spanish Fork & South Jordan
The Five Couples You Meet in Therapy: The Validaters
The Five Couples You Meet in Therapy, Part 3: The Validaters
So far, you have learned about two common types of couples that seek couples therapy; conflict avoiders and volatile couples. Today, you will learn about the third type of couple- the Validaters (source). 
You will learn the common characteristics and struggles of validating couples. You will also learn how therapy can help you overcome challenges if you are in this type of couple. 
Defining Validaters
If I had to summarize the Validating Couple in as few words as possible, I would use "easygoing" and "calm". If you and your partners are validaters, you probably find that communication is fairly easy and low conflict. You and your spouse probably prioritize seeing each other's perspectives. And, you probably find that you share a lot of empathy for each other generally.  (Related Article: Building Emotional Intimacy)
All in all, if you are part of a Validating Couple, you are probably able to find compromise on most of your disagreements. And you probably find this compromise in a fairly mild and calm way. John Gottman's research found that Validaters report having positive interactions with their partners overall. (Source).
Challenges for Validating Couples 
Although you may generally have positivity and lack of conflict in your Validater relationship, you may also run into some hurdles along the way. You may find that the calmness in your relationship makes it hard to be fully expressive with each other. The mildness that can make for extra productivity in certain situations can lead to frustration in others. (Related article: Communication Barriers). 
Additionally, you may find that when you do have especially complex and difficult disagreements, that you really disagree and can't seem to move past it. It is not uncommon for this type of couple to experience power struggles during crises. You may find that these sorts of crises lead to frustrating communication gridlock.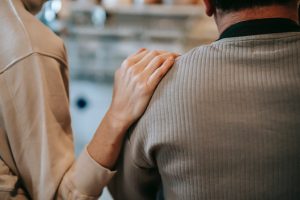 Therapy Can Help You Increase Your Vulnerability
A Validater relationship is not overwhelmingly b ad, you may just notice a sense of dysregulation or imbalance when it comes to tricky situations. You don't have to let these unresolved conflicts pass without solutions. That's where couples therapy can help. (Related article: Couples Therapy).
In couples counseling, you can learn how to improve your communication skills, be more vulnerable, and find new ways to find real resolution in challenging situations. Things may be good, but therapy can help make them even better. Are you ready to get started? Begin couples therapy in Orem, South Jordan, or Spanish Fork. 
Written By Lauren Adkins
Posted in
clinical mental health counseling utah
,
clinical mental health counselor
,
clinical mental health counselor utah
,
cmhc
,
Communication
,
Communication Barriers
,
communication in marriage
,
communication skills
,
counselor
,
couples counseling
,
couples therapist
,
Couples Therapy
,
How To Communicate Better
,
How To Communicate Effectively In A Relationship
,
marriage and family therapy
,
Marriage Counseling
,
Marriage Counseling In Orem Utah
,
Marriage Counseling In South Jordan
,
Marriage Counseling in Spanish Fork Utah
,
Marriage Counselor
,
marriage intimacy
,
marriage problems
,
marriage therapy
,
mft
,
Online Counseling
,
orem counseling
,
relationship advice
,
Relationship Counseling
,
relationship problems
,
south jordan counseling
,
spanish fork counseling
,
Telehealth In Utah
,
teletherapy
,
teletherapy utah
,
therapist
,
therapy
,
utah counseling
,
utah county counselor
,
Utah Therapist